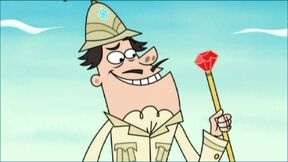 Madmun 
is the gentleman look like a villain but the real villain is his butler, Mr. Prendo.
Trivia
He was the first one captured.
He was called Madman and he was corrected as "MadMUN" which is similar to Butch, a Team Rocket Member, being called, Biff, Butcher, Hutch, and etc. on Pokemon.
Appearances
Ad blocker interference detected!
Wikia is a free-to-use site that makes money from advertising. We have a modified experience for viewers using ad blockers

Wikia is not accessible if you've made further modifications. Remove the custom ad blocker rule(s) and the page will load as expected.